About Us
Established 1988
Highest Quality Work,
Every Time
Proto-Tec, Inc. is a family-owned and operated CNC Machine Shop with over 30 years of experience in delivering high-precision work. Our mission is to provide our customers with the highest quality work, every time. Our commitment to quality extends beyond our state-of-the-art machines; it's a reflection of our highly skilled employees who take pride in their work.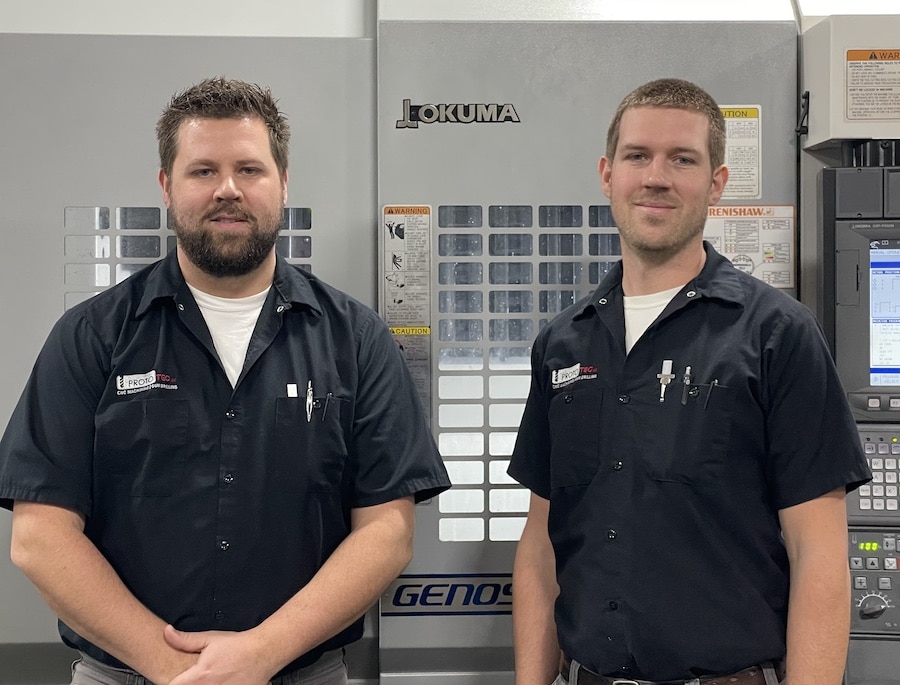 Exceptional Customer Service
Our co-owners and brothers, Kyle and Cody VandenBosch, lead the way in providing exceptional customer service. Kyle, with a background in sales and marketing and a passion for CNC technology, is your go-to for any questions or concerns. He takes pride in ensuring that customers have a positive experience from start to finish, with timely response times and a friendly demeanor. In his free time, Kyle enjoys spending time with his family, bowhunting and land management.
Cody, who joined Proto-Tec in 2012, brings prior experience from a large die shop and manufacturing company. He works closely with our customers to ensure that our projects are running smoothly and delivered to the highest standards. Cody is constantly seeking ways to improve our processes and make our work as efficient as possible. In his free time, he enjoys traveling with his wife, hiking, and racing his dirt bike in endurance races.
At Proto-Tec, we believe in delivering not just quality work but also quality service. Our team is dedicated to ensuring your satisfaction every step of the way.
Unparalleled Quality and Outstanding Service
"Proto-Tec provides fast quotes and very quality machining at a fair price. They are willing to help figure out difficult solutions.  I always know they will meet or exceed our expectations."
"Working with Kyle and crew has been great. They are very detailed and quality of work is always top notch."
"Before we found Proto-Tec, we out-sourced every task of manufacturing our product. We approached Proto-Tec to do the machining aspects, and they basically helped us start out from scratch. Proto-Tec handled everything and made the process extremely easy and straight forward. Kyle and Cody are extremely smart, determined, and even correct mistakes that we make on our end. They even help us design and create new programs. Proto-Tec is by far the best supplier we have, and our product and process would not be what it is without them. They even create beautiful tool marks that complement our designs and help us stand out from our competition. We couldn't recommend Proto-Tec more, and we look forward to many more decades of working together! A+"